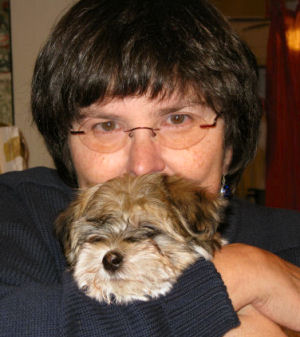 Teresa Bevin and Puppy Truman
---
Consultations offered in both Spanish and English.
---
We'll be happy to answer your questions about this site or about our consultations. You can e-mail us at:
consultations@destinationjoy.com

Phone and On-line Consultations with Teresa
Although I have many years of experience as a therapist, what I offer here is not therapy.
I offer myself as a teacher and sounding board for whatever question or issue you may have about a situation in your life. I will listen to your issue or question, and I will allow myself to be inspired to help you find the shortest way to a good feeling about it. I don't limit your topic. I won't give you advice to solve a problem, only to feel better -- and you will. And your problems will be under your control. I will teach you a simple method that will help you make the best of every day.
In addition to holistic counseling, other techniques that I use are:
EFT (Emotional Freedom Technique0

Hypnosis

Meditation Coaching & Instruction

Sound Therapy

Chakra Balancing

Crystal Therapy
How do I contact you?
Send me an email stating your desire to have a consultation (be sure to include a phone number) I'll either phone or e-mail you to agree on a time.

When an appointment is made, you can mail me a check in advance or pay through PayPal® on-line (PayPal® accepts credit cards for me). (Details)

I will call you1 at the agreed-upon time and will adhere to the amount of time we have agreed to in advance. (However, if more time is required and schedule permits, we can arrange to extend the session.)

On-line, private "chat" or video consultations are available via Skype®. Send message to: Teresa.Bevin to arrange an appointment or send an email to consultations@destinationjoy.com.

Pricing1
Phone and Skype Sessions:
$25.00 (USD) for first half hour or portion

$10.00 (USD) per additional 10 minute segments or portion.
E-mail Sessions:
---
Details
Checks are payable to:
Teresa Bevin
369 Montezuma, #589
Santa Fe, NM 87501

PayPal® On-line Payments are secure credit card payments. You will be sent an invoice with links and instructions on how to pay on-line. The payee will be identified as Alta World Enterprises.
---
1Phone prices apply only to calls within the U.S.and Canada. Special arrangements can be made for telephone consultations to other countries. Skype® subscriber calls are available worldwide.